Ikea green home
"Being sustainable doesn't have to be hard work. We want to show homeowners how to take little steps towards sustainable living because it all adds up to benefit their wallets, well-being and at the same time, our environment." – Lars Svensson, sustainability and communication director, Ikea Southeast Asia. Above: Mockup of a More Sustainable Home
The next time you shop at Ikea, don't just look at the price tags. Sure, the products are affordable and well-designed, but Ikea also wants to teach you how easy it is to live a more sustainable life at home.
It's so serious about this that it even created a mock-up home at Green Living – an eco-lifestyle event – to show visitors exactly how to go about it.
Modelled after a typical Singaporean household, the Ikea More Sustainable Home makes use of its home furnishing expertise and derives simple ideas for saving energy, water and food. The result is a comfortable, functional and sustainable home that shows how a family of four can easily save more than S$1,300 a year.
Some highlights of the home include the Storhogen battery charger with storage; the Hoppvals' cellular blind – designed like a honeycomb so that the air inside creates a layer of insulation to help reduce airconditioning costs; and the Ikea 365+ food containers that come with a vent in the lid and rounded corners to ensure effective and even warming in the microwave.
"Being sustainable doesn't have to be hard work," says Lars Svensson, the sustainability and communication director for Ikea Southeast Asia. "We want to show homeowners how to take little steps towards sustainable living because it all adds up to benefit their wallets, well-being and at the same time, our environment."
Eco living can be as easy as making the conscious effort to switch off the lights when not needed and saving water, but increasingly, manufacturers are actively finding ways to make their production processes or products more eco-friendly.
For example, since September 2015, all the cotton that is used for Ikea products comes from more sustainable sources, meaning that the cotton is grown with less water, chemical fertiliser and pesticide, while increasing profit margins for the farmers.
The Swedish retailer also started incorporating more bamboo into its furniture. This strong and fast-growing material grows 10 times faster than wood, which makes sustainable and environmentally friendly.
Starting in 2016, Ikea globally made the switch to LED lights for its entire lighting range in its bid to tackle climate change.
Wee Shiang Ning, general manager, Philips Lighting Singapore, says an LED bulb can shave about S$190 off electricity bills over its 15-year lifespan, compared to a conventional light bulb. According to the NEA, lighting is among the top five energy-consuming household appliances and devices.
Philips Lighting introduced LED bulbs six years ago, and today, it's ventured into Connected Lighting systems, through its Philips Hue range of products. They work like a wireless lighting system that homeowners can programme according to their needs, "achieving energy savings of up to 80 per cent," says Mr Wee.
While saving energy is one big part, using less water is just as crucial.
Winnie Quek, senior regional marketing manager for Hansgrohe Singapore, says: "Customers are increasingly environmentally conscious and are turning to our products as they are water-efficient."
The German brand offers a wide range of bathroom and kitchen fittings that qualify for PUB's Water Efficiency Labelling Scheme. WEL-rated fittings come with one to three ticks, and the higher the number, the better the water flow rate.
Local furniture retailers too have been upping their sustainability game.
Space Furniture, for one, prefers to represent brands with high environmental standards, buying only from responsible suppliers of raw materials, and working with recognised designers to ensure that the end product stays relevant for years.
Eileen Tan, marketing manager at Space, cites examples such as the Carl Hansen & Son Wishbone chair that is made from wood sourced from sustainable forests, and the Emeco 111 Navy Chair made from 111 plastic bottles.
Emeco 111 Navy chair

Space Furniture carries the Emeco 111 navy chair (above) made from 111 PET bottles.
"Everyone involved in the life cycle of a piece of furniture – designer, maker, seller and buyer – all play a role in ensuring the earth and our environment have not been compromised as a result of a product's creation," says Ms Tan.
For Journey East, sustainability has always been a key consideration in its product offering, since it began in 1997. "We started off with upcycling and restoring original vintage pieces from the 1920s to 1950s, so that no trees needed to be cut down to furnish a home," says Terence Teh, its marketing manager.
Through its various brands, such as d-Bodhi and District Eight Design, the furniture is often made of old reclaimed timber, such as wood taken from old houses, beams, doors and fences.
Mr Teh says that not only is this practice environmentally friendly, the furniture has a higher chance of maintaining its aesthetic over a longer period of time. "Having been exposed to elements for decades, the wood is naturally dried out over a slow process, making it less likely to warp or crack," he says.
For its more modern collection, the PLAYplay range of furniture is made from sustainable Indonesian mahogany. "Sustainable choices simply make sense – for us today, and for the generations to come. We don't want to contribute to landfills any more than we have to; reclaimed, recycled, and sustainably sourced furniture is one way we can reduce our environmental footprint," says Mr Teh.
Journey East Playplay
Journey East dBodhi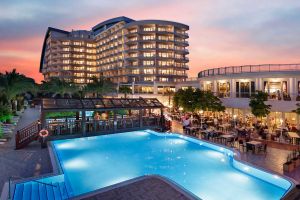 Above and top: Journey East's PLAYplay range is made from sustainable Indonesian mahogany. The furniture of its d-Bodhi brand is often made of old reclaimed timber, such as wood taken from old houses, beams, doors and fences.
At atomi, a specialist boutique dedicated to Japanese designs, its staff actively educate consumers on their sustainability efforts, such as the types of wood that its furniture is made from. The beech, oak, maple and walnut all come from sustainable sources.
"As retailers, we must take the lead in offering quality products made from sustainable sources, instead of pushing the responsibility to the consumers," says atomi's founder, Andrew Tan.
atomi's sustainability efforts go beyond its product offerings. Mr Tan makes a conscious effort to run his company in a sustainable way, like keeping the shop small, and not printing physical catalogues.
"These practices help us save cost, given the ever increasing rents and high labour costs," says Mr Tan. "So in fact, it pays off handsomely to be sustainable."
Ever more so now, local furniture producers too are following suit.
Over the last two years, Scanteak sources only for sustainable teak wood from Indonesia for its furniture. "We insist on getting wood that has been legally harvested," says Jamie Lim, its regional marketing director. The timber mills that Scanteak sources from have to produce certification which proves their sustainable practices.
"Sustainable wood is more expensive than non-compliant wood, but at Scanteak, we feel it is our social responsibility to care for the environment," says Ms Lim.
For his wood-only furniture range, Folks, designer Nathan Yong chose to use only American walnut and European oak. "These two types of wood are easily available in farms and regulated forests," says Mr Yong.
When wood is farmed, it means that seedlings are reintroduced into the land after a tree has been cut, and the trees are not cut until they are mature. "This also applies to regulated forests, so that no land will be left bare when trees have been cut," he says.
Folks Nathan Yong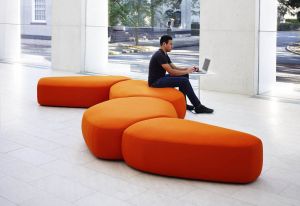 "Sustainability is about respecting our environment, refraining from excessiveness." – Designer Nathan Yong, whose wood-only furniture range, Folks (above), uses only American walnut and European oak as these two types of wood are easily available in farms and regulated forests
Mr Yong adds that American and European legislators have tight control of furniture produced from sustainable sources, and the factories that produce his furniture have to show proof that their sources of wood come with endorsement from green organisations, such as the American Hardwood Export Council.
Mr Yong is happy to show walk-in customers the certificates that prove the wood he uses is sustainable.
"I have been brought up with the value of not wasting anything, so it is actually a part of who I am regardless of whether sustainability is important or not," says Mr Yong. "It is about respecting our environment, refraining from excessiveness and appreciating things with a certain appropriateness. It just seems like the right thing to do."