The homeowners of this four-room apartment wanted to turn their flat into an eco-friendly abode. Throughout the home, they used renewable bamboo flooring from Star Bamboo, vintage furniture and energy-saving lights.

Full-height windows allow ample sunlight and ventilation into the open-plan dining and living area so it remains bright and airy without having to turn on the lights in the day.
The homeowners worked with Kelly Woo, interior designer and owner of eco-friendly furnishings company Hunter Gatherer, where this unique wood floor lamp here is from.
The countertop for the bar is made from salvaged teakwood, another eco-wise design choice in the home.
The material is also used for the overhead shelves in the master bedroom.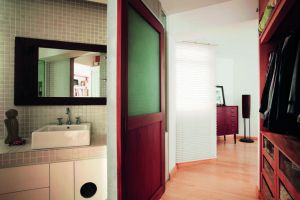 An old coffee table was repurposed to become the bathroom mirror.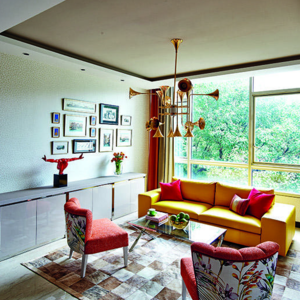 Homes that use brightly-coloured sofas!